New Miami Cardiac & Vascular Institute surgery chief pioneered a life-changing coronary bypass technique
When 43-year-old Isaac Del Val found out he needed a cardiac bypass, he was in shock. The thought of heart surgery — and its recovery — was overwhelming. But with two severely blocked arteries, he needed the procedure to avoid a second heart attack.
Lucky for Mr. Del Val, he was at Miami Cardiac & Vascular Institute at Baptist Health South Florida, which had recently named Joseph McGinn, Jr., M.D., as its new chief of cardiac surgery. Dr. McGinn is recognized worldwide for pioneering a minimally invasive coronary bypass procedure, which he used to help Mr. Del Val.
"Dr. McGinn does a different type of procedure," says Mr. Del Val. "He was unbelievable."
The minimally invasive approach that saved Mr. Del Val's life is called the "McGinn Technique." It's a minimally invasive cardiac surgery coronary artery bypass graft, or MICS CABG. Few cardiac surgeons perform the procedure because of its complexity and need for specialized equipment.
Rather than cracking open the chest for the cardiac bypass, the McGinn Technique uses small incisions in-between the ribs to access the heart and arteries. This approach avoids muscle and the need to break bones, which means that patients can recover faster and get back to their daily lives. 
Surgeons can also keep the heart beating during the procedure, which means patients don't experience the complications associated with "waking up" the heart after surgery.
McGinn developed the technique after seeing how difficult the surgery can be on elderly patients. He also realized the shorter recovery time would benefit younger patients who are often the family's main breadwinner.
"This approach allows us to operate on older and sicker individuals who may not be well enough for open-heart surgery, as well as younger patients who need to get back to work," says Dr. McGinn, who joined the Institute in February 2020. "Most patients can return to normal activities one week after surgery."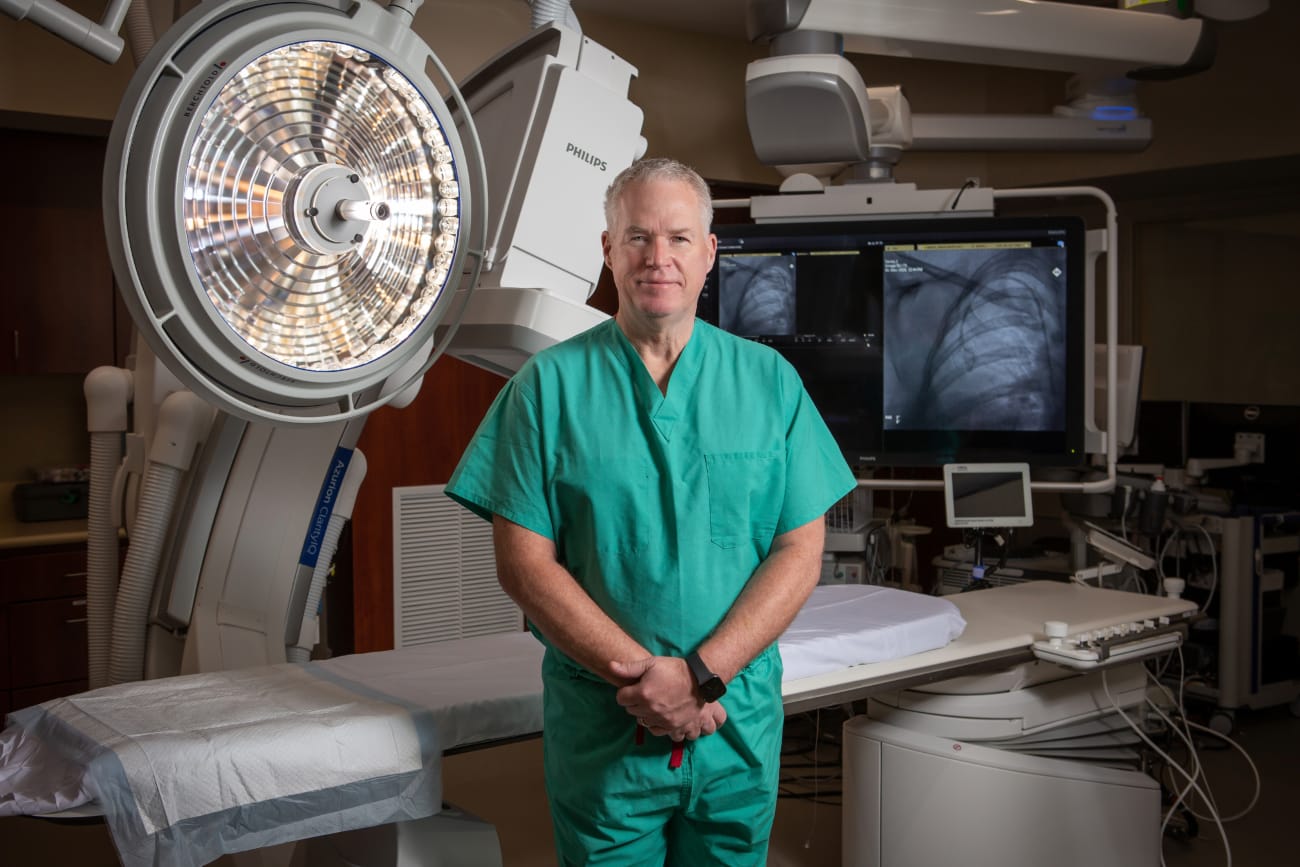 Dr. McGinn estimates he's performed the technique at least 1,800 times, with many of his patients traveling from different states and countries to have the procedure. His work has generated hundreds of presentations at scientific meetings and articles in peer-reviewed medical journals. The American Heart Association has also recognized his pioneering efforts with the Samuel L. Koontz Award for Clinical Excellence.
"Dr. McGinn brings world-class expertise and innovation to Miami Cardiac & Vascular Institute," says Barry T. Katzen, M.D., founder and chief medical executive of Miami Cardiac & Vascular Institute. "He is an excellent addition to our team of highly skilled cardiologists and surgeons who are committed to excellence in patient care, innovation and team building."
Before joining Miami Cardiac & Vascular Institute, Dr. McGinn worked as the chair of Cardiovascular and Thoracic Surgery at Sanger Heart & Vascular Institute, part of Atrium HealthCare in North Carolina. Prior to that, he was a leading cardiac surgeon in New York City and served as the medical director of the Heart Institute at Staten Island University Hospital for 16 years. 
"I'm thrilled to join an Institute where innovation plays a major role in patient care," says Dr. McGinn. "Miami Cardiac & Vascular Institute has an amazing team that works together under one roof to deliver the most comprehensive, innovative care to the community." 
Dr. McGinn has trained hundreds of surgeons around the world in minimally invasive cardiac surgery techniques. He brings that training to Miami Cardiac & Vascular Institute where he's helping his colleagues master life-changing procedures for patients like Dr. Del Val.
"Without the surgery, things could have been so much worse," says Mr. Del Val, who is continuing his heart care with Miami Cardiac & Vascular Institute. "It's changed a lot in my life and I'm grateful."